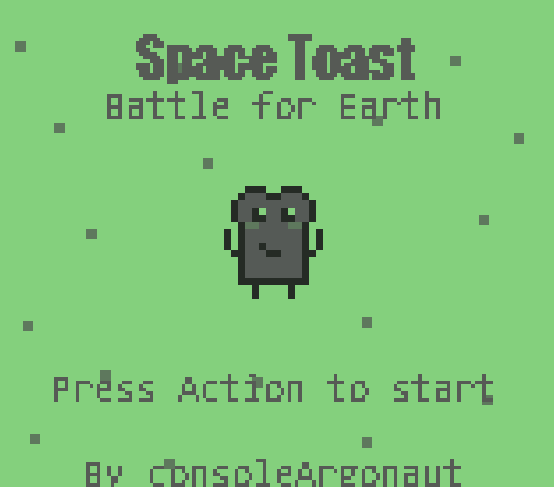 Space Toast - Battle for Earth
A downloadable game for Windows
Summary
In Space Toast - Battle for Earth you take on the role of... well... Space Toast!
Defend earth in this epic battle against the dairy products from outer space!
Gameplay

A bullet hell shooter inspired by games like Galaxia and Undertale
5 different boss battles against all kinds of dairy products
Endless mode
Additional challenges and 100% completion bonus
More than 1 hour of gameplay!
GameBoy Graphics and Soundtrack
Different Soundtrack for every fight
An in game shop where you pay with the amount of times you died to help inexperienced players
Dialogue driven cutscenes
Controller Support!
And saving the game of course...
Controls

Play with your controller or in one of many keyboard layouts of which you can choose.
Creation

This game and all assets were created in less than one month for Toast's Studios Space Jam.
Install instructions
Download the game. Unzipp it and execute the Space Toast.exe file.
To all linux users:
The game runs faster than it should in some Windows emulators. When playing it on a Windows emulator compare the game speed with the GIFs on this page.